Has New England weather aged the appearance of your home? The mixed precipitation we see from season to season can prematurely strip your exterior paint and erode the wood. Simulate the natural look of painted or stained cedar with vinyl siding!
This polymer-based exterior protects your home against the effects of inclement weather and debris. It is immune to moisture, so you don't have to worry about the faux-painted look fading from heavy precipitation. Vinyl siding is made mostly of polyvinyl chloride (PVC), a synthetic polymer widely used in construction. It takes little effort to maintain and is often more affordable than other siding options, with the same great look you expect from paint.
It requires talent and experience to make the trim-work look its best, which is why finding the right contractor to install your vinyl siding is critical in the home improvement process.
The Classic Style of CertainTeed
Design a home with curb appeal you're proud of and that others in the neighborhood admire with CertainTeed Vinyl Siding, in a variety of natural-looking stained colors. Choose from over 40 solid shades, wood-tone blends and complementary trims influenced by nature in the CertainTeed Monogram® or Impressions® collections.
---
CertainTeed Monogram®
Cedar brings a natural, earthy look to your New England home. Whether it is a permament residence, rental property or vacation home, you want your house to look its best. CertainTeed Monogram vinyl siding has the natural look of cedar you're looking for without the cost and time-consuming upkeep. Bring your home to life with a variety of colors to reflect your unique style.
Color Selection
33 Low-Gloss Solid Colors
8 Wood-Tone Blends
40 Coordinating Trim Colors
Three Classic Styles
Double 4″ Clapboard
Double 5″ Clapboard
Double 5″ Dutchlap
Even More Reasons
Maintenance Free
Lifetime Limited Warranty
Heavy Duty .046″ Thickness
---
CertainTeed Cedar Impressions®
The most admired homes in Connecticut are often sided with cedar, a timeless and elegant style of vinyl siding. Your main residence, secondary or vacation property will be the best looking in the neighborhood with textured and durable shingles from the CertainTeed Cedar Impressions collection. Integrate your home with the environment surrounding it for a naturally beautiful look.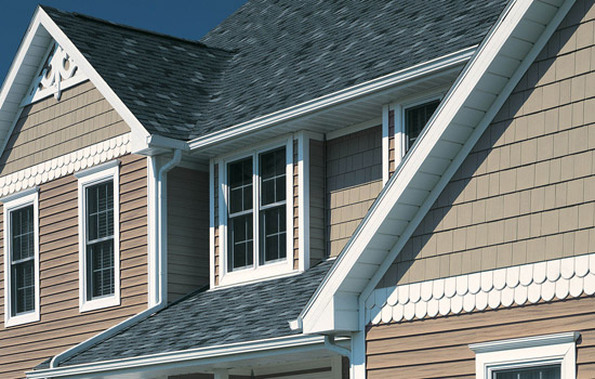 Top of the Line
Patented PanelThermometer™ for precise installation
Molded Perimeter Lock™ creates a virtually seamless appearance
TrueTexture™ finish
Highest Quality
Lifetime limited warranty
Designed and tested to withstand hurricane force winds
Virtually maintenance free, never needs painting
Made of injection molded, durable polymer
---
At Steve Czerwinski Inc., we guarantee nothing but the best for our customers; CertainTeed is one of the most trusted brands in the industry! Their vinyl siding has superior wind resistance to protect your Connecticut home from the effects of strong gusts, all while maintaining its brilliant shine. We also offer a handful of alternative brands to ensure that we can match anything you have in mind for your home.